Straighten your teeth with Invisalign aligners
Posted by Douglas S. Vose on Apr 4 2021, 11:49 PM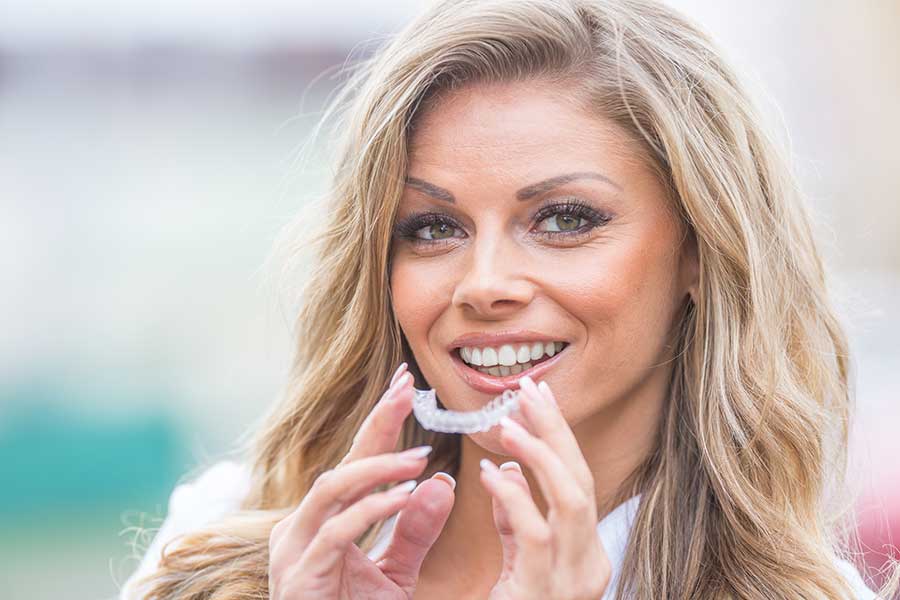 We all know that our smile plays a major role in creating the first impression when we meet someone. If you are someone with crooked or misaligned teeth, don't worry, cosmetic dentistry provides options to straighten them without having to wear braces. Both metal braces and Invisalign aligners are options to get your teeth straightened, each have their share of advantages and disadvantages. When choosing an option for straightening your teeth, it is imperative to consider what works best for your appearance and lifestyle. 
Enjoy straighter teeth and a better smile with "Invisalign."
What is Invisalign? 
Invisalign is a type of dental aligner that is clear, removable, and invisible. Invisalign aligners are used to rectify abnormalities artistically and comfortably using a meticulous, predictable, and technologically advanced treatment process. 
Invisalign uses clear aligners that are specially designed to have a transparent appearance. These aligners can apply controlled pressure on your teeth, forcing them to shift to give you the smile you've always wanted.
Invisalign Procedure
Let's see how the Invisalign procedure is carried out in detail:
As the first step, your dentist will examine your teeth and discuss whether or not Invisalign is right for you. Once you decide on the Invisalign treatment, the dental practitioner will take impressions of your teeth and send them to the lab.
The lab will create a 3D image of your teeth along with your custom treatment plan. A set of aligners will be designed specifically to move your teeth from their current position, to your desired smile. 
The clear plastic aligners are made up of BPA - free plastic. When you wear the Invisalign, it will not cause any irritations to your cheeks. And you will need to wear this every day, for at least 22 hours a day, for the best results.
After dental examinations, your doctor will give you new aligners as per your progress to improve the straightening process. It will be decided based on your treatment plan. During each stage of the treatment, you can notice the changes in your teeth.The entire process usually lasts about a year and at the end, you are left with the straight smile you've always wanted!
Advantages of Invisalign
 Invisalign treatment holds multiple advantages over conventional orthodontic treatment. 
Invisalign can be removed at any time. The removability of Invisalign means that you can continue to brush and floss normally.

Cleaning Invisalign is very easy. 

It is more safe and comfortable than traditional braces. 

Reduce the risk of tooth decay and gum disease.

It will help you to recover your beautiful smile within a short period of time.

One of Invisalign's main advantages is that it is easy to see the progress during each phase of the treatment. 

It can improve your oral health.

It provides a precise treatment.

Digital imaging is used to create trays.
A beautiful smile can always boost your self-confidence. A healthy smile always gives you more comfort and self-esteem. Achieve a healthy, good-looking smile using Invisalign treatment.